Winter in Colorado can be tough. The weather turns on a dime, it can be frigid for days or weeks at a time, and the sun sets shortly after 4:00 in the afternoon. The darkness can feel oppressive. Fortunately, though, fighting back against that darkness can be as easy as installing some lighting around your exterior landscape. Colorado, as we all know, also receives its fair share of mild days and cooler evenings during the winter, which can be perfect for cooking out or merely relaxing outside. We've been around as your northern Colorado landscaper for a while now, and Advanced Landscaping & Sprinkler is happy to share some lighting tips with you today. Having a well-lit landscape just makes it that much more appealing, enjoyable and secure.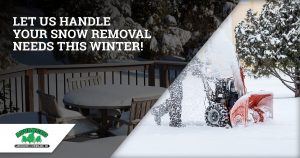 Today we'll discuss 5 ways that you can light up your landscape to make your yard, deck, or other outdoor area the perfect winter wonderland. Your Fort Collins landscaper is always happy to assist with implementing any of these plans or designs. You might even say that we would be delighted to help. Once you deploy some of these ideas, you may never want to come inside again.
1. Lanterns
Lanterns are often installed near a back or side door and highlight a window, arch or wreath. Most are installed with a semi-flush mount consisting of an exterior lamp attached to or hanging on an arm that is attached to the wall or support structure. Tabletop lanterns that run on battery power, additionally, can be perfect for illuminating bowls of food or snacks, beverages, board games, puzzles and any other similar activities best done while peering through elbows askance, with wide eyes.
2. String Lighting
String lighting is exactly what its name implies: soft, low-voltage bulbs are strung outside over a table or gathering area where you might enjoy a meal with your family or games with the kids. For effective exterior string lighting you want to look for waterproof, traditional battery-powered or solar-powered outdoor string lights with long-lasting LED bulbs. If you're using solar, they will often come with their own solar panel for recharging during the day. As everything that has to do with these lights is suspended overhead, there are no wires or extension cords for hasty feet to trip over. These lights can also be extended out quite far across the yard if needed.
3. Security Lights
Security lighting is generally the brightest of the available lighting options. It is safety lighting intended to illuminate large swaths of the exterior of your home, warding off potential burglars or animals. Security lighting is usually installed in high spots among the eaves or garage to cast wide beams of light. The best type of security lighting you can purchase is motion-activated flood lights that mount to the exterior surface and have 2-3 bulbs per housing. As this type of lighting depends upon constant motion to keep it in use, it's generally not the best for creating any kind of outdoor ambience. That's better left to lanterns, string lighting, and, as we'll soon learn, spot lighting and path lighting.
4. Spot Lighting
These types of lamps are often referred to as "up-lighting" or simply landscape lighting, as they are the industry standard to use for showcasing a plant or ornamental feature (pond, waterfall, etc.)You can purchase bullet-shaped lights to stake into the ground to illuminate larger objects, or smaller, round lights called "well lights" to illuminate shrubbery or hedges, or any other smaller features. You will typically want to bury well lights in the ground, where they do a wonderful job casting up light to highlight any feature you are looking to highlight. This is easily the most common form of landscape lighting, after security lighting.
5. Path Lighting
Ranging from soft to moderately bright, path lighting is generally used to help pedestrians navigate sidewalks while highlighting them attractively. They are generally available in low-voltage and solar LED options, which feature a decorative bulb attached to a short stake you drive into the ground. If you choose to go the low-voltage path, you will also need a transformer that reduces the 120-volt current. The energy-saving solar versions, on the up side, require no extra wires, and will stay bright for several hours after twilight, due to a rechargeable solar battery or remote solar panel that you place elsewhere that gets direct sun.
There you have it: five different ways to illuminate your landscape during these long, dark winter nights that you'll be able to enjoy year-round. An especially nice touch is that the solar options are all great for Colorado; anyone who has lived here for a turn or two of the calendar knows that we should really be nicknamed "the sunshine state". As always, if you have any questions about your landscaping, we're your northern Colorado landscaper at Advanced Landscaping & Sprinkler.